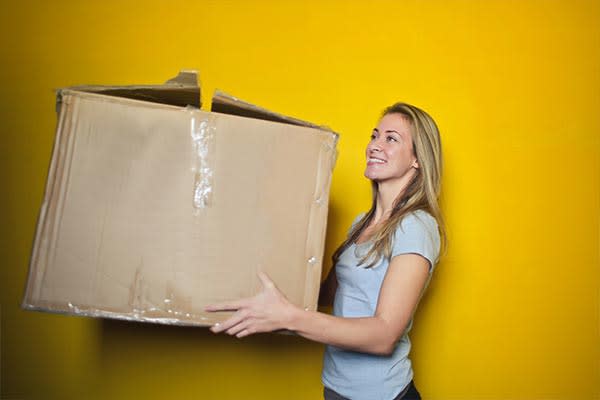 Your house is sold, and you have an appointment for the closing of your new home. There's just one big project left: getting ready for moving day. Feel free to ask. I'll be glad to give you some suggestions. And our moving checklist will help you get ready for the big day and stay organized.
1. Get organized. Start a moving folder where you'll keep all your estimates, receipts, and your to-do list. You could print this checklist and put it in the folder, too. Cross tasks off as they're done.
2. Get estimates from reliable moving companies. Your possessions are important to you, and you want professional packers and movers, not just someone you found on Craig's List who has a truck. Ask for references and check them. And, tedious as it may be, read every word of the estimates and contracts.
Verify the company's Department of Transportation number to verify it's licensed and insured.
Make sure the mover you hire is qualified and able to handle large and fragile items, like pianos and fragile antiques. You might need a specialty mover for them.
3. Thin out your possessions. This is the time to go through every room and closet in your home and get rid of the things you no longer want or need. Have a yard sale (or two or three), donate items that are in good condition and take the rest to the landfill. And don't save your basement, garage or attic for later! The more you get rid of now, the less stressed you'll be as moving day approaches.
4. This would be a good time to have your children's records transferred to their new school.
5. If you're moving locally, this would also be a good time to get to know your new neighborhood. Find out where the parks, playgrounds and best shopping areas are. And try to meet your new neighbors. You'll feel less apprehensive about moving if you know where everything is and can expect to see a few familiar faces.
IF YOU'RE DOING YOUR OWN PACKING

It will be easier to have your moving company pack everything for you. But if you'd rather do it yourself, here are some helpful tips:
1. Start collecting boxes, newspapers, bubble wrap and packing tape. Most supermarkets break down their boxes as soon as they're empty. But your local store and other retailers might be willing to save some for you. Also, ask your friends who shop online to save their boxes for you.
Office supply and shipping stores sell boxes and rolls of bubble wrap.
Put tape on the bottoms of all the boxes so they don't open when the movers pick them up.
You can also use towels and dish towels, pillowcases, socks and T-shirts as packing materials.
2. As you're packing, label the boxes with their contents and the room where they'll go. Put large "FRAGILE" labels on boxes that contain your China and other breakables.
3. Make a list of all your valuables and which boxes they're in. Taking pictures of them would be a good idea, too.
4. Take pictures of your electronics before you unplug them and label the plugs so you know which belongs where. If you put them all in the same box, you won't have to hunt for them when you're setting things up in your new home.
PUT THESE ON YOUR LIST, TOO

1. If you're moving into an apartment or home with no off-street parking, figure out how the truck will park without blocking neighbors. Trapping people in their parking spaces isn't the best way to begin new friendships.
2. Think about your car. If you're moving to another state or cross country, have it serviced before you leave. If a car is being shipped, take everything, including jacks and spare tires out. Make sure the shipper is reliable and trustworthy.
3. In your new home, measure everything, including the elevator if you're moving into an apartment and doorways to make sure your furniture will fit. If you're moving into an apartment building with tight turns, you might have to plan to lift a very large sofa, headboard or bookcase onto the balcony and bring it in through the sliding doors.
4. Buy moving insurance in case something gets lost or broken.
5. Put birth certificates, passports and all of your medical, legal and financial records in an envelope. If you can do it without misplacing it, carry the envelope with you on moving day, Also, think about scanning all your important documents and saving them on Google Drive.
6. Register to vote in your new neighborhood.
7. Transfer your utility, landline, Internet and TV service to your new address. Arrange for installation, too.
8. Arrange for your cats and dogs to board at the vet's on moving day. If you haven't done it already, have them microchipped while they're there. So many animal companions get lost while their families are moving. Much as they'll hate it, yours will be safer with the vet.
A COUPLE OF WEEKS BEFORE YOU MOVE

1. Back up your computers and upload as much as you can, especially pictures, to Google Drive. Even if you have to pay for storage space for a few days, it'll be worth it if something happens to your computer during the move.
2. Give your new address to banks, credit card companies and others who contact you by mail. If you're on Social Security, don't forget to let the Social Security Administration know you're moving, too. And your company's payroll provider will also need your new address.
3. Change the address on your driver's license. You'll also need to change your address on your auto and homeowners' insurance policies and your car registration.
4. Cancel your newspaper subscription.
5. Cancel or redirect online orders and subscription boxes.
6. Figure out how you're going to move your fish tank. A pet supply store can advise you on this. They can also advise you on moving birds and reptiles.
7. The day before you move, take your cats and dogs to the vet for boarding. If your cats absolutely refuse to go, put them in a bathroom with a "Do Not Open!" sign on the door on moving day. They'll need food, water and a litter box in the bathroom. Take their carriers in first so you don't have to wrestle them in the door while trying to keep cats from escaping. Make sure all the doors to the house are closed before you go into the bathroom to pack them up.
Finally. You're done. Congratulations on making a stress-free and successful move!. Enjoy your new home!